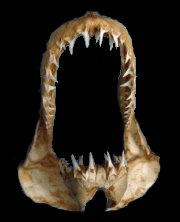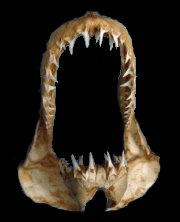 Fossil Books and Field Guides For Sale

COOPER RIVER DIVE CHARTER TEE SHIRT's

Fashionably Cooper River


These fashionable tee shirts are sold by Al Coffey's company MegHuneter. Net

It's site where you can buy all sorts of items for the Megalodon enthusiast! We offer t-shirts that are screen printed on high quality Gildan shirts. All of our designs were made specifically to be screen printed. We offer a variety of hats with your favorite giant teeth printed on the front. We even have Megalodon fossils for sale! All of the apparel and accessories available here at Meghunter.net were produced at our company, Dragonfly Graphics, in Port St. Lucie, Florida. New designs are always being worked on so check back often! Check their entire stock at the webiste Meghunter.Net !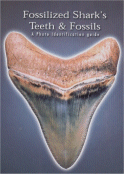 $12.50
Includes Shipping USPS Priority Shipping

A Photo Identification Guide.

An excellent photo guide!
Fossilized Shark's Teeth and Fossils

Byron Fink has made a very attractive photo ID book of fossilized shark's teeth, showing in full color both upper and lower teeth specimens. Hundreds of other Southeastern U.S. fossils.Color photographs will help both the amateur fossil collector and paleontologist identify various types of fossils..

Photo's include pictures of fossils from: Sharks,, Rays,, Crab,, Fish Bladder Stones, Mastodons, Alligator, Horse and many more!
BONE HUNTER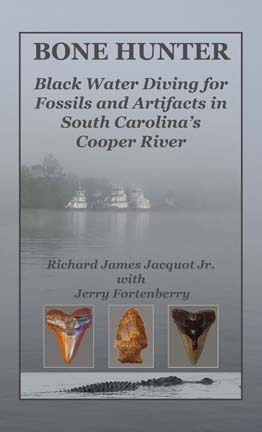 BONE HUNTER
Black Water Diving for Fossils and Artifacts in
South Carolina's Cooper River

Written by Richard Jacquot with Jerry Fortenberry. The book contains 220 pages of information and photographs.

$33.95
IIncludes Shipping USPS Priority Shipping

Megalodon Hunting the Hunter

From the Forewords and Introductions:

"...The ultimate terror of the waters, sixty feet long, and just as predaceous in its behavior as the modern great white shark, was good old C. megalodon. Now, Mark Renz, who writes so well about Florida fossils, has given it its proper due. I hope you, the reader, enjoy this account as much as I have."
--S. David Webb, Distinguished Research Curator of Fossil Vertebrates, Florida Museum of Natural History, University of Florida, Gainesville, Florida

"...In this beautifully illustrated book, Mark Renz has faithfully captured the sense of awe and discovery that accompanies finding and studying megalodon fossils. More importantly, he has been able to condense the arcane discussions of scientists to a manageable level of complexity, while maintaining a sense of wonder at the richness and complexity of the world around us."
Bretton W. Kent, Author of "Fossil Sharks of the Chesapeake Bay Region", and faculty member, College of Life Sciences at the University of Maryland at College Park .

* 48 international sites where you can search for Meg teeth * The controversial rise and fall of Meg * Color Identification section for Meg and her ancestors * Terror index: Was Meg the baddest of the bad? * Rumored Meg sightings * 390 illustrations and photos
Retail Price $37.50
Includes USPS Priority Shipping
Simply the Best In Blackwater Diving
COOPER RIVER DIVE CHARTERS







Help Report Manatee Sightings In SC



Simply the Best In Blackwater Diving   
  Copyright 2020

Cooper River Dive Charters
260 Amy Drive
Goose Creek, SC 29445
Click here to;
Purchase
Fossilized Shark's Teetg and Fossils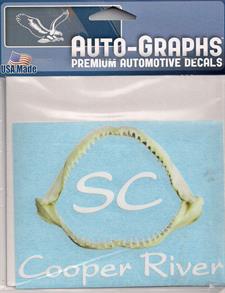 AUTO - GRAPHS - Cooper River Megalodon Jaw Window Graphic

Cooper River Dive Charters own Megalodon Jaw Graphic with SC centered in the center and Cooper River below thw jaw. Proudly show your Cooper River Diver pride with this quality wimdow graphic! $13.50 Includes shipping
AUTO - GRAPHS - Palmetto Tree and Crestant Moon
South Carolina's State Symbol done in Diver Down Flag - Window Graphic

Cooper River Dive Charters own Palmetto Tree and Cresant Moon Graphic. A State of South Carolina symbol done in Diver Dowb Flag. Show your South Carolina Diver pride with this quality wimdow graphic! $13.50 Includes shipping