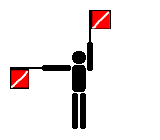 Danger Divers In Water
Please Proceed with Caution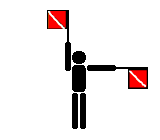 What the heck is that
Captain trying to Tell me?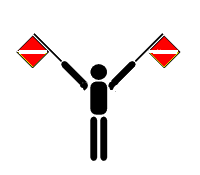 What is all that flag waving for?
While boating in the states waterways if you see a boat flying the Diver Down Flag and while your boat is approaching i, you see one of the boats occupants waving a set of flags you may think to yourself. "Self is that Captain trying to tell me something".

And the answer is Yes! This Captain (the manic looking person waving the flags and possibly hopping up and down) is trying to warn you that your boat is approaching divers under the water, and they may be coming to the surface to end a dive. The possibility that boat may be in danger of hitting a diver in the water is very real.

The signal he will use is a maritime semaphore signal, the flags will be in out stretched with both arms raising up and down vertically. (See center graphics) This semaphore flag signal is the signal meaning "Error" and the Captain of the vessel is trying to tell you that you and your boat are about to make a very big one.

Depending on whether the dive vessel is anchored or drifting, the Captain may ask you to maneuver your boat to the left or right. When maneuvering please make as wide a berth as possible between your boat and the dive vessel. The signals are very straight forward should be easy for boaters to remember, just move to the direction that the Captain is pointing you. He will always direct you away from his divers to protect them
.

If the river or lake is wide enough you do not have to slow your vessel or even slack its speed, but steer well clear of the dive vessel. And possibly move to the far side of the river or channel. South Carolina Code of Law states that: When the diver down flag is being displayed in a water body too narrow to allow passage of another vessel other than within fifty feet, a vessel operator may proceed only past the displayed flag at a no-wake speed and allowing as much clearance between his vessel and the displayed flag as is safe and practical.
This flag waving signal system is not covered by any South Carolina Laws, it is a recommendation that area some dive operators will be doing to promote safer boating and diving is South Carolina. Please follow the instructions as listed here. Simply doing so, may save a human life! Surely it is the right thing to do.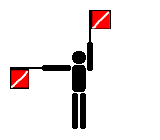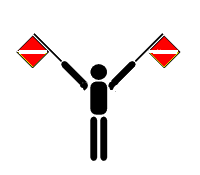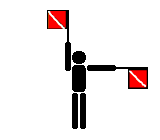 Please Steer to your left and allow as much clearance between our vessels.
Danger Divers In Water
Please Proceed with Caution
Please Steer to your right and allow as much clearance between our vessels.
Share the Water!

Diver Down Flag
This red flag with a diagonal white stripe is a diver down flag. When this flag is being displayed on the water it provides a warning to boaters of the presence of divers in the water. South Carolina State law requires boaters to stay clear and to slow to idle speed if passing close to the flag. Divers flying the flag from boats must do so only when divers are in the water and should not fly it constantly or during surface intervals. Diver safety depends on Fishermen, Recreational Boaters and Divers sharing our states waterways. Please steer clear of vessels flying a diver down flag.
In Memory of William "Kenny" Mizell
On August 31, 2003 Diver Kenny Mizell was killed on the Cooper River while SCUBA Diving this death resulted from being fatally struck by a passing pleasure boat. The boat came very close to the diver and never stopped.


South Carolina

SC DNR

Cooper River Dive Charters
260 Amy Drive
Goose Creek, SC 29445

Help Report Manatee Sightings In SC



Simply the Best In Blackwater Diving   
  Copyright 2020

Cooper River Dive Charters
260 Amy Drive
Goose Creek, SC 29445
Simply the Best In Blackwater Diving
COOPER RIVER DIVE CHARTERS